Okay where to start?? To start with we can tell you that most of our news has dissapeared.. We aren't at all happy with this but there is nothing we can do about it... =( And sorry for the delay of the news updates! We had quite a bit of homework and I've got a big test on Saturday... But now I've taken the time to write what has happened the last few days. We're also gonna start with more links for you guys with slow internet, pictures & videos etc.
Let's see what to start with...
Just so everyone that has bought tickets to the concert in Stockholm and Oslo have to latest return their tickets 8 of May for the Stockholm concert and for the one in Oslo the latest date is 11 of May. If are from Norway you can send the tickets to Billettservice AS, 8607 Mo i Rana, mark the envelope "avlyst konsert". The concert in Dortmund is now going to take place the 13 of June.
From BILD about the concert in Dortmund:
"Tickets are still valid. In case you won´t attend the new date they ask you to send back intact tickets to the following adress within the next 7 days
CTS Eventim AG / eventim.de Stichwort: Veranstaltungsverlegung Postfach 10 39 12 28039 Bremen GERMANY
Your letter should be send via registered mail and should contain the Eventim.de form for returning tickets.
Within the next 14 days you will not only get back the pree-sale ticket price, but also all fees and the credit card dues!!"
Other new dates:
01.06.2008 Portugal - Lisbon Rock in Rio Lisbona
14.06.2008 Netherlands - Nijmengen Goffertpark
21.06.2008 France - Paris Parc De Prince
27.06.2008 Spain - Barcelona, Palau St. Jordi
28.06.2008 Spain - Madrid, Rock in Rio Madrid
29.06.2008 Portugal - Lisbon Atlantico
05.07.2008 Monaco - Monaco Open Air / Le Port
06.07.2008 Italy - Rome Open Air
11.07.2008 Italy - Modena Parco Novi Sad
12.07.2008 Switzerland - Genf Stade de Geneve
13.07.2008 Belgium - Werchter Werchter Boutique

The concert in Douai, France is also totally canceled and the same goes for Ljubljana.
FAN ACTION (I am not the boss for this action!)
"Hi! We have created this petition because of the final cancellations of the concert in Norway, Sweden, Slovenia and one of the concerts in France. We are about 10.000 terribly disappointed fans in Norway and we know the thousands of fans in the three other countries feel the same way.
We are under the impression that the countries with the smallest population and with the smallest gigs, are theones being pushed aside. But our small populations doesn't change the fact that the concerts were all sold out! Its not our fault that our population isn't higher, nor that we don't have a bigger venue to offer..
The reason for the cancellation is that Bill's voice won't handle all the concerts as he's going to start singing again so early as the beginning of May. This petition is created in order to make Tokio Hotel pospone the Tour for a couple of months more (or whatever necessary) so that maybe they will be able to do all the concerts after all.
So if YOU are one of the many thousands of disappointed fans from either Slovenia, France, Sweden, Norway (or other countries that might get cancelled later on), or if you just agree with our statements and would like to help us try to get out concerts back in the future PLEASE SIGN THIS PETITION! We are counting on your help.
PS: If you like, you can send us a picture of yourself holding up a note where you have written which country you are from to this mail address Inter-TH-Fan-Action@hotmail.com, so that Tokio Hotel can see who has participated in the petition! It would be great if you did
If you are wondering of something send us an email on Inter-TH-Fan-Action@hotmail.com"
From nettby.no
http://www.thepetitionsite.com/3/international-tokio-hotel-fan-action Text to be displayed
http://www.tokiohoteluk.proboards52.com/index.c.cgi?board=new&action=display&thread=1207150392 Here is the fan package that the UK Street Team sent to Bill. I'm really impressed with the result and that you took the time to do this for Bill!!!
The Swedish Street Team have posted a press release from Universal Sweden:
"Hamburg, 7th of April 2008 - What a relief for Bill Kaulitz (18). A couple of days after singer and frontman of German rock band Tokio Hotel had to undergo surgery at his vocal chords, things couldn't look better. First the bands first English Album "SCREAM" hit the Canadian Charts at #6, which is he highest chart entry ever of a German artist. Then the doctors made a really good prognose after Bill's surgery.
The surgery, which took nearly an hour, went like planned. Bill was actually in such a good condition that he was allowed to leave the hospital a couple of hours later. His first check-up this week showed such a good result, that everybody is positive that Bill's voice won't change. But to guarantee this it's absolutely necessary, that Bill does not speak for ten days, followed by an intense phase of vocal rehabilitation.
Bill is taking this very seriously and is taking good care of himself. He doesn't speak a word. but he writes to communicate. Cause he wants everybody to know, that he is o.k he wrote the the following: Bill: "First of all I want to thank all our fans for all the "get well" wishes, comments and presents they sended to us. It was really unbelievable and sweet. I was really touched and it helped me a lot through the last couple of weeks. Thank you for all your support - you guys really rock!
Tom is with me and there for me 24/7. Georg and Gustav are coming by on a regular basis to visit me which is great and helps me a lot…. I am so happy when these ten days will be over and I am finally allowed to talk again. I mean you really have to try to picture not being able to say a single word for ten days…it's torture!!!!! But I won't complain after I'm really, really happy, that the surgery went soooo well. I am so happy that it's done and over with now. The doctors tell me that everything will be fine and I am confident that everything will be good! I'm so glad that I will be able to perform live over the summer and I can't wait to go back on stage and play all the festivals in Europe. I hope to see you all there – take care!"
Translation of this text I think is done by someone on tokiohotel.org.uk
Exclusive! Here writes the sick Bill!
"For days trembled brother Tom (18), the band colleagues Gustav (19) and Georg (21), as well as thousand of Tokio-Hotel-Fans around the world for their Bill Kaulitz (18). But now the singer has his delicate vocal chord surgery survived well (BRAVO reported). 45 minutes long in the University Hospital Hamburg-Eppendorf, had the specialist doctors operated the Tokio-Hotel-Star. A so-called cyst on Bill's vocal chords was removed. "The surgery passed systematical. You can't say at the moment, if the surgery was successful. But the doctor is very confident...", says band manager David Jost. Because after the surgery, Bill isn't allowed to speak, sing and to laugh, for ten days! A tough time for the else so palavering, laughing and singing Magdeburger.
"You can't imagine how difficult it is, to be silent", writes Bill now in the exclusive letter, to the BRAVO-readers - directly from his sickbed. Because already one day after the, for him frightening surgery, Bill was allowed to go home. There he gets cared now around-the-clock from his twin brother Tom (he even cooks for him - Bill writes, what he want to tell him) - a real help for Bill. Because no other human being is as close to him as Tom. And the thousands wishes of BRAVO readers give him much power. "I want to let you know, that I am okay," says Bill therefore personally in his letter. "Thank you for everything - you are truly the best!" But when Bill will be quite fit again, is still totally unclear. The first concert is scheduled for 1st May in Washington on the tour schedule, but the next appointment is already the major US-talkshow "Late Night With Conan O'Brien" on 28th April. But if Bill isn't really healthy, these dates get also canceled. So that he gets really fast healthy, Bill is going after the speaking-ban into a voice- rehab. Under "singing-therapeutical aspects" will be his golden speak- and singing-organ back quite fit. The German worldstar doesn't have so much fun to do this training - but to be able sing well, he would do everything. Hardly to come up with, if Bill would sing now different - or even worse: he could never sing again: "My voice is everything for me! Without my voice and my music, I wouldn't be the same Bill anymore." And finally no one want that. Because the fans all over the world, love him that way. Now everybody have to wait, what will happen, fingers crossed and for Bill plenty rest: Even listening to music is not allowed - because when singers hear a melody, they sing the song in their subconscious. And that claims the vocal chords. BRAVO wishes good recovery...
TRANSLATION OF THE LETTER
Dear Bravo-readers!
What should I say - I am truly overwhelmed! Your sympathy, your many gifts and encouraging words made my last days really endlessly easier. For sure, I had fear because of the surgery, with general anesthesia and all the trimmings. But Tom was the whole time with me, which was a real help. Shortly after I woke up from the general anesthesia, I've had wrote my friends and the family and our team a SMS, that I'm awake again. And of course, I would also like you to know that I'am okay. The doctors said, that the surgery was systematical. But we will all know more details, when the 10 days of not-speaking are over. You can't imagine, how difficult it is, to be silent... I'm even not allowed to laugh! As soon as I know more, I will let you know. Again, thank you for everything - You are truly the best - and we will see us certainly again soon.
Your Bill "
Don't keep on voting for our guys.
Here is a list of all the different things to vote for: Fuse.tv
Boogie Prisen
TRL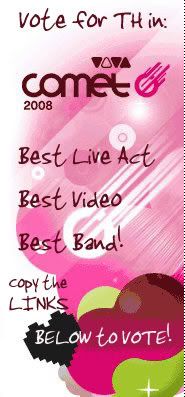 VIVA
VIVA
VIVA

Then there is a funny interview with Tokio Hotel here and a new episode of Tokio Hotel TV here
Finally Bill is allowed to talk again!!!!! His first word was: Ahhh! and then he said 1,2,3 in German I guess =) Here is an article about it: (Translated by Midori from the UK Street Team!)
"10 days after surgery the Tokio Hotel singer is allowed to speak again. Doctors state a "successful surgery", Bill (18) is allowed to sing again in a month's time.
His first word was "Ahhh"
… and then he tried "one, two, three"
Day 10 after the vocal cord surgery of Bill (18). The day the Tokio Hotel singer has been waiting for, [the day] he was allowed to speak again. But just how easy is it if you weren't allowed to say anything for such a long time? B.Z enquirers.
Initially the first words spoken by Bill after the surgery were a cautious and tentatively "Ahhh" and that was followed by sound check-like "one, two, three", manager and producer David Jost (35) explains. According to Jost, he squeezed them out cautiously and thankfully is not be in pain anymore.
Nevertheless, the teen-favorite has to abide by strict doctors' regulations, "Bill has to continue to inhale a lot and should speak only quite cautiously and as little as possible. "Bill is not allowed to make phone calls at all," says Jost. However, little-Bill is an ambitious fella: "Bill wants to get back on stage as quickly as possible and is putting way too much mental pressure on himself, in my opinion."
The schedule was already fully booked over the next weeks. However, Jost is a considerate manager: "To relieve him from the pressure and to provide him with more time for his recovery and voice rehabilitation we moved the Conan O' Brien TV show in New York from 28th April to 9th May. We canceled the concert in Washington D.C on 1st May and we will move the signing at the Virgin-Mega-Store on Times Square from 29th April to 6th May."
Presumably the first brief performance of the band will be in front of approximately 30,000 people at the Bamboozle festival in New York on 3rd May. "