A total update with everything from their concert last night! (Maybe not all the news will come now but some time today!! Videos are coming in later today I hope!!)
Setlist:

01.- Ich Brech Aus
02.- Der Letzte Tag
03.- 1000 Meere
04.- Leb' Die Sekunde
05.- Totgeliebt
06.- Wir Sterben Niemals Aus
07.- Schrei
08.- Schwarz
09.- Stich Ins Glück
10.- Übers Ende Der Welt
11.- Reden
12.- Heilig
13.- Geh
14.- Spring Nicht
15.- Wo Sind Eure Hände
16.- Durch Den Monsun
17.- In Die Nacht
18.- Rette Mich
19.- Vergessene Kinder
20.- An Deiner Seite (Ich Bin Da)
What happened last night!!
10.47 a.m: in france MartaTheBes

My friend said there is the soundcheck!
MartaTheBest
13.25 SOUNDCHECK ICH BRECH AUS!
13:45 - they have played Leb' die Sekunde, now thery are singing SCHREI
@ 2:25 pm
Coolbreezegirl
We heard them play Geh before. Am at a bistro eating now close by. Fans scattered everywhere on the streets. A few hundred fans sit on the street near where we eat. Roads are closed off. Gendarmerie guard are here. There are tons of entries. I wonder how many they will use. Hard to access the venue cause everything is block off with barricades. Cars are rerouted.
@2:35 pm
CBG: Hundreds of fans at one side of the venue were just forced to move.
@ 2:42
CBG: Spring Nicht soundcheck now. Loud and clear. We're a few streets away. Whole block will hear.
@ 2:51 pm
CBG: Leb die Sekunde sound checked again.
@ 2:53 pm
CBG: Still haven't figured out where everyone are. There are groups with a few hundred of fans here and there but not those huge lines like there were at other concerts. I must be totally blind or the sun has fried my brain because they must be somewhere!
@ 3:06 pm
CBG: Found them. Phew. Thought I was at the wrong venue. I'd say there are 10,000 to 20,000 fans here in line. Plus, thousands of fans in the streets.
@3:19 pm
CBG: Hundreds of fans arrive per minute now. Crazy. Never seen so many TH fans at the same time. Ever. Lots of guys here too. Some fans look for lack of better word: Creative. But they don't look as sleazy as in Dortmund.
15:34 - they are again soung checking... there should be some problems... in an hour they should open the doors...
@ 4:04 PM Schnee

CBG:

They are letting people inside now.
Derlan @ 18:20:

We're inside the venue, we have good places, very high up but we have a great view over the stage. It's extremely hot today. They're splashing water on people standing in the sun! The arena is enormous!!
Derlan @ 18: 52

We spot mostly young fans and parents. Bought TH merch! :-D
Derlan @ 19:00

TH tv are on stage and are filming the crowd! Fans goes crazy.
Breeze @ 19:10

It's coming smoke from the stage now. Seat sections are amost full, but floor is half empty. Athmosphere is great. Saki walks on stage now. No opening band yet. I am on Tom's side which looks sold out.
Breeze @ 19:13

Fans goes beserk. Massive amount of smoke on the stage. I hardly can see the stage because of it. No band in sight yet. Sun shining. It's loud here!
breeze @ 19:17

Opening act starts now
Breeze at 19:19

Bass is sooooo loud on the opening act that you hardly hear the singer. Hopefully TH has better sound. Fans are treating the band nicely.

Breeze @ 19:20

The sound is god damn awful!
CBG @ 19:28

Thankfully this audience know how to clap along to the songs an in between songs, on not just scream their heads off. I might have to take it back once TH starts. Opening band is actually very good.
Derlan @ 19:34

First band playing now. The bassist looks a bit like Georg, lol! Singing in french. The screaming when they started was insane, I don't dare to think about the sound when TH starts.
Derlan @ 19:48

Can I take back what I said about the bassist looking like georg? Rotfl!!! They're actually really good . Sun is almost gone from the standingarea . We're so far away and high up so people at the stage looks like ants. The runway is longer than usual. Standing place is of course not full, everyone is crowded near the stage. And there's no grass. They've put metalthingys all over standingarea.
Breeze @ 19:56

The opening band are still playing.
CBG @ 20:04

Opening Act has finished. Some roadies on stage doing some stuff now.

And Derlan @ same time!

BP Zoom stopped playing now. Crowd's chanting Tokio Hotel. Say Hello to to all lovely fans at THA from me, OnlyMe and kathy87! :) Not a full venue. 
CBG @ 20:47

A fantastic atmosphere here tonight. I wouldn't worry too much over that the lawn is half full. I don't know how many ticets they released. All seats are sold out basically to 95 % and there are more fans here than for any other previous TH concert. That's amazing.

CBG @ 20:50

They're on!!! Loudest concert ever
CBG @ 20:51

They have fireworks!! Ich Brech aus.

Derlan @ same time:

They've started! Screaming is so loud! Bill is wearing the usual. Playing Ich Brech aus.
CBG @ 20:53

Can't see Bill from my seat. He's above Gustav. He walked down now. Der letze Tag now. Lots of massive firework.

CBG @ 20:59

The boys are 2 cm tall from this distance. Hehe!!
Derlan @ 21:01

They have f***ing amazing effects!!! Huge thunder sounds, fireworks exploding at stage!
CBG @ 21:15

First fanaction now during Wir Sterben Niemals aus. Bill acknowledged it by saying something midsong, couldn't hear what though. Schrei started now.
CBG @ 21:17

Same show btw as the indoor 1000 Holels tour.
CBG @ 21:19

Getting a bit nervous with all the pyrotechnics on stage during Schrei in combination with Bills hair. Pyro went off everytime the fans screamed schrei. Amazingly cool effects, most spectacular show yet. 
CBG @ 21:22

Schwarz now
derlan @ 21:22

Really cool effects during Schrei! Clothes changing now. Bill is on fire!!! 
CBG @ 21:26

Stich ins gluck now
Breeze @ 21:30

Ubers ende der welt. Everyone goes berzerk and it feels like the whole venue is shaking
CBG @ 21:32

Windmachine

CBG again:

Reden. All boys are in top form! Smiles a lot.
CBG @ 21:37

Fans scream so loud I can't hear what Bill says and he spoke quite long now. Heilig just started. 
CBG @ 21:25

Geh. Bill leaned on Tom and fans went nuts. 
CBG @ 21:49

Stage led screen lowered and turned red. Bill on top of it now. Spring Nicht.
CBG @ 21:55

Amazing concert!!! 
CBG @ 21: 57

Pyro again on WSEH. Looks fantastic.

CBG @ 22:03

He He. Everyone knows the boys will be on the catwalk so you see fans moving around and fighting to get the best view. 
CBG @ 22:05

Twins are coming out now, In Die Nacht
CBG @ 22:12

Bill introduced the boys. He has picked up some stuffed animal during Rette Mich now.

CBG again:

Bill has a white or grey teddybear in his lap
CBG @ 22:12

Bill introduced the boys. He has picked up some stuffed animal during Rette Mich now.

CBG again:

Bill has a white or grey teddybear in his lap
22:15 malinaldi

It's such a unbeliveable great show. All boys look so happy, no german flag action so far. I don't remember what song that was supposed to be on. Everyone chanting Tokio Hotel Tokio Hotel now. Boys look great on monitors, it's very nicely edited. Much better than on the zimmer dvd.
22:22  malinaldi
So many ppl leaving now, don't they know that they're gonna do one last encore with ads? What a shame.

Obviously the first TH concert for many fans cause they think the concert is over and start leaving. sillies. Let's see how fast they run back, hehe

Vergessene Kinder now
Derlan @ 22:20
VK sounded the same, like it was supposed to (like VK in Dortmund). Bills voice is perfect. Lot's of ballons!

Interesting.

CBG:
Fan action failed. At least from our view. I think it is too dark to see the black balloons at our side under the roof and we can't see red balloons on the other side. But yellow ballons on the iawn, looks great
22:32 malinaldi

An deiner Seite was brilliant. Boys doing their thank yous now.

Tom and Georg throws water, they leave Gusti doing his tricks.
22:35
malinaldi

The audience looks amazing when being filmed on the monitors.
22:45 malinaldi

Going out of the venue now. Talked to a guard and there were 40 000 ppl here.
23:28  cara
AMAZING !!! IT WAS AMAZING !!! Just back home and still high ! We got a firework, a damn firework on Ich bin da !!! We got fire on ich brech aus and schrei too.

1 : Bill has learnt new dance steps i swear and that's damn hot, a kind of twist stuff, i hope there will be videos

2 - Schrei was the best i've experienced because there was such noise !

3 - Bill's voice was great, i feel they put down a bit all the songs to be safe. Georg sing alaong on spring nicht and other one i forgot was pure love

4 Tom was so focused !!! Bill was all smile all show, cutest little thing ever LOL Gustav is getting hotter by the day and Georg is managing the hair dance like no one else

5 Bill sing rette mich with dumbo as a stiffed animal : 100% cute but at the end of the song he lets down his arms and with his habit it ends on his no no parts so as he was holding Dumbo with this hand we got a kind of awkward moment LOL

6 heart on paper were beatiful, so were the balloons
7 It was so hot i feel i was going to die before the start of the show ! Oh yeah and BP Zoom are nice guys but crap sorry...
23:34 
Schnee
Message from Onerva....

They are giving out free merchandise! Posterbooks and stuff! WOW!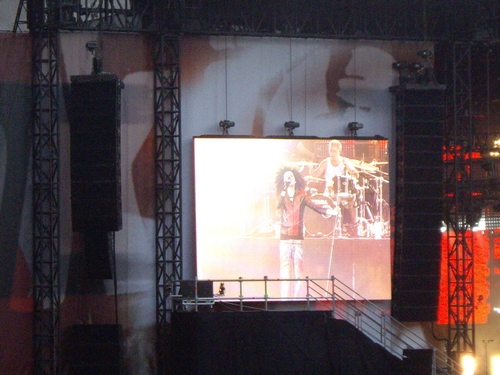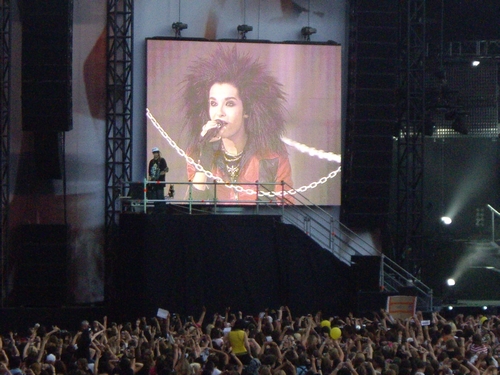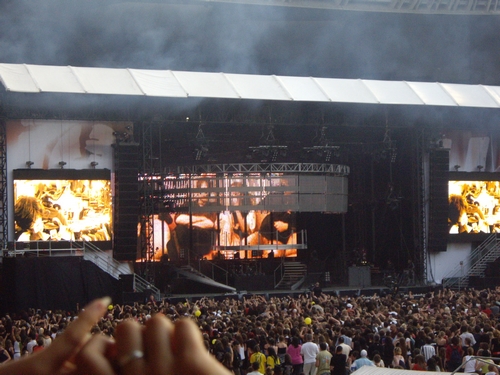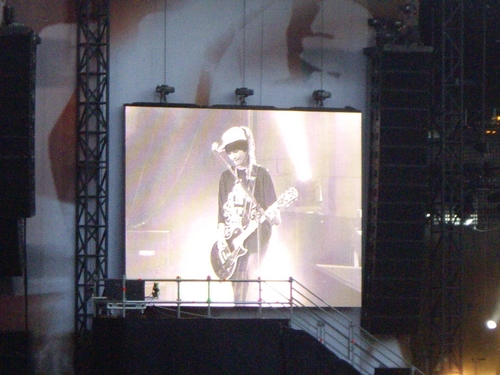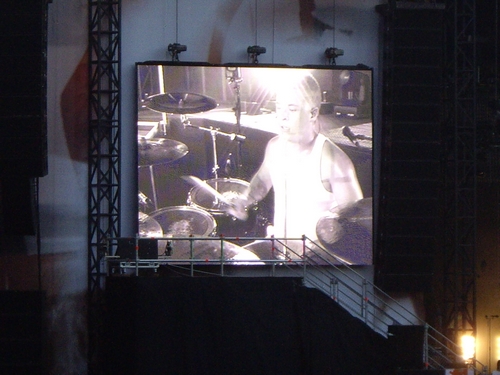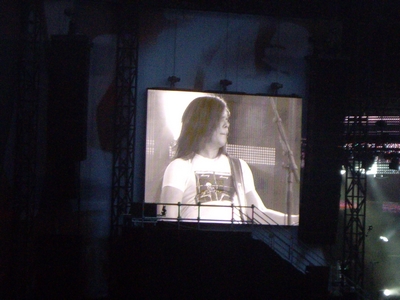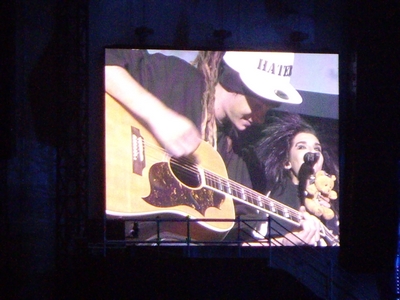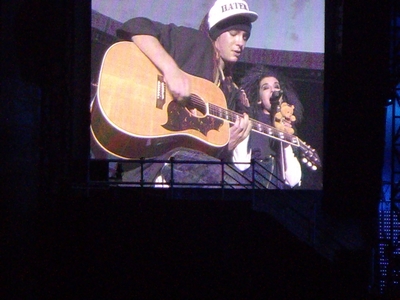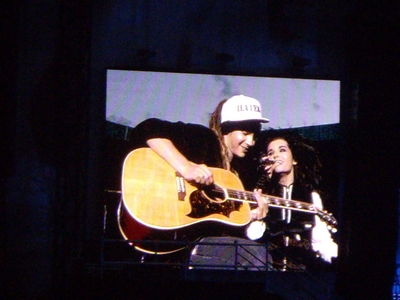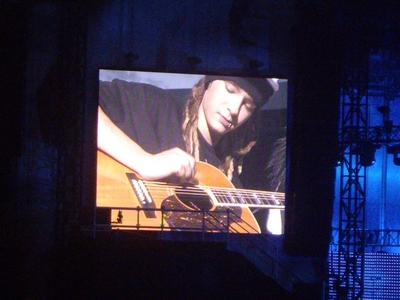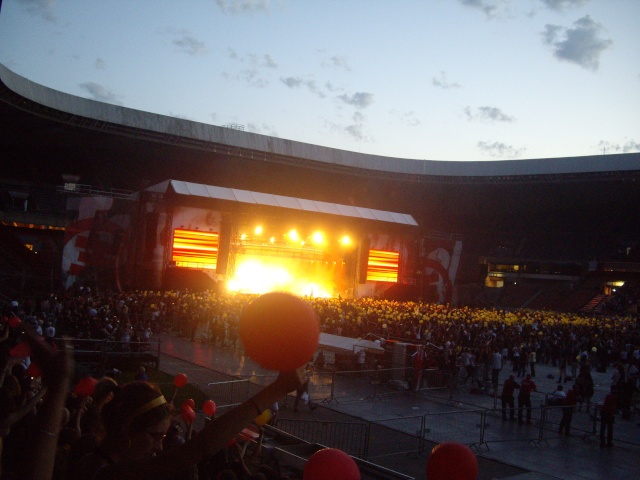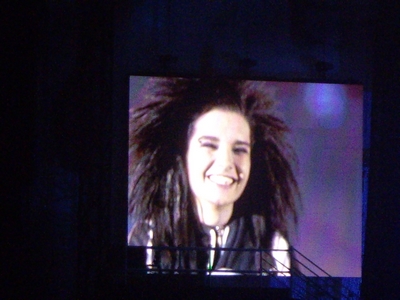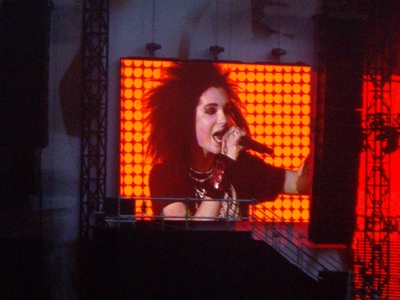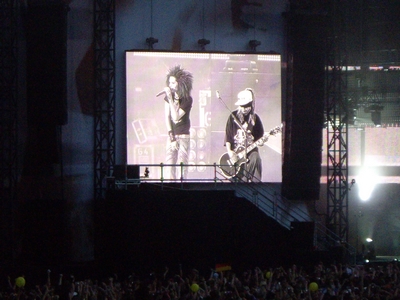 French article on a national newspaper about the show : cara is doing the translation

http://www.leparisien.fr/home/loisir...OTEL_298581947

BATTUS à plate couture, les supporteurs du PSG ! Question ambiance, il y a des leçons à prendre des fans de Tokio Hotel. Drapés dans des drapeaux allemands, cheveux bicolores, total look et maquillage noirs, pantalons à carreaux et mitaines en plein soleil, qui dit mieux ? Et même dans un stade rempli aux deux tiers - on annonçait 31 000 spectateurs - les petits « Franzose », renforcés par des Italiens, Anglais, Suédois et Mexicains, nous ont fait regretter les boules Quiès. Deux heures plus tôt, déjà, la moindre silhouette sur la mégascène déclenchait des cris stridents.

Completely beaten, the PSG fans (aka paris football team) ! Concerning ambiance, there are lessons to take from TH fans. All wrapped in german flags, bicolored hair, total TH look and dark make-up, custmized trousers and gloves under the sun : who can play better ? Even in a two third full stadion - 31000 people were said to be here - the little french, helped by Italians, English, Swedish and mexicans (i've even seen greek flag), have made us regret the "Boules Quiès (stuff you put in your ears to prevent from the noise). Two hours earlier, the start of a person a the stage was starting a whole buch of heavy yells.

Et sitôt parti le jeune groupe rock nordiste BP Zoom - chauffeur de salle efficace et modeste - les slogans « Tokiotel » ont viré à l'hystérie à l'apparition des quatre éphèbes allemands, dans un tonnerre d'explosions digne d'AC/DC.
As soon as BP Zoom - efficient and humble warm up- lft, the "Tokio Hotel" yells turned to hysteria as soon as the 4 german came up in a thunderstorm of explosions looking like AC/DC (i feel the boys would love the comparison!)

C'était parti pour une heure quarante-cinq de rock en « ique », métallique, mélodique et énergique. Chaque chanson est un tube repris en choeur, dans un allemand parfait. Tatiana et Eve-Marie, de Dieppe (Seine-Maritime), Valentin et Amandine, de Béthune (Pas-de-Calais), et Louise, de Paris, qui se sont rencontrés sur un forum et ont vu le groupe trois ou quatre fois, en prenaient plein les mirettes : les sourires de Bill, le chanteur à la coupe de hérisson, son émotion devant la foule, le break acoustique au milieu du public, avec lapin en peluche dans les bras de Bill, le final avec feu d'artifice...
And here it goes for 1h45 of rock in "ic" : metallic, melodic and energetic. Ech song is a hit sung along by everybody, in a perfect german. (here it's bla bla about some fans) : Bill's smiles, the singer with the hedgehog hair (Ah ah !), his emotion in front of the crowd, with the stiffed animal in the arms (here it says it was a bunny but i'm sure i've seen Dumbo...), the final with the firework...

« C'étaient les mêmes chansons que lors de la tournée de mars, mais un spectacle bien plus impressionnant, résumait Tatiana. Et depuis son opération des cordes vocales, Bill chante encore mieux. » Après deux nuits d'attente, Emma, 11 ans, et Andréa, 12 ans, finissaient en larmes. « C'était leur dernier concert en France avant longtemps, mais on sera toujours là quand ils reviendront », assurait Emma. Avis aux parents...

"That were the same songs than during the Tour in march, but the show was a lot more impressive, said Tatiana. And since his surgery, Bill sings way better." After 2 nights of waiting, Emma and Andréa were in teras : "that was their last show in France before a long time, but we'll always be there for them when they'll come back" said Emma. Parents are warned...